It is no news that Nigeria is the second most religious country in the world. When it comes to church, trust Nigerians to be at the forefront.
when you walk in a Nigerian street, you can't help but be amazed by the posters which are being posted on walls, cars, any available space, ranging from campaign posters, job poster, an obituary to church poster etc.
It might seem normal, not until you notice some hilarious themes that will leave you shocked and pondering on what the inspiration for the caption was.
This is mostly seen on church posters as they are trying to reach a large audience for their special service, crusade and what not.
We do not have anything against any church, but most times we are left helpless after seeing some funny posters.
This trend, however, is not exclusive to any city or state in the country rather, it is everywhere.
We are still confused about the inspiration that brought about this captions, but we bet you will love it.
Get your laughing gears ready as we list 10 funny Nigerian church posters.
Who Wake The Sleeping Lion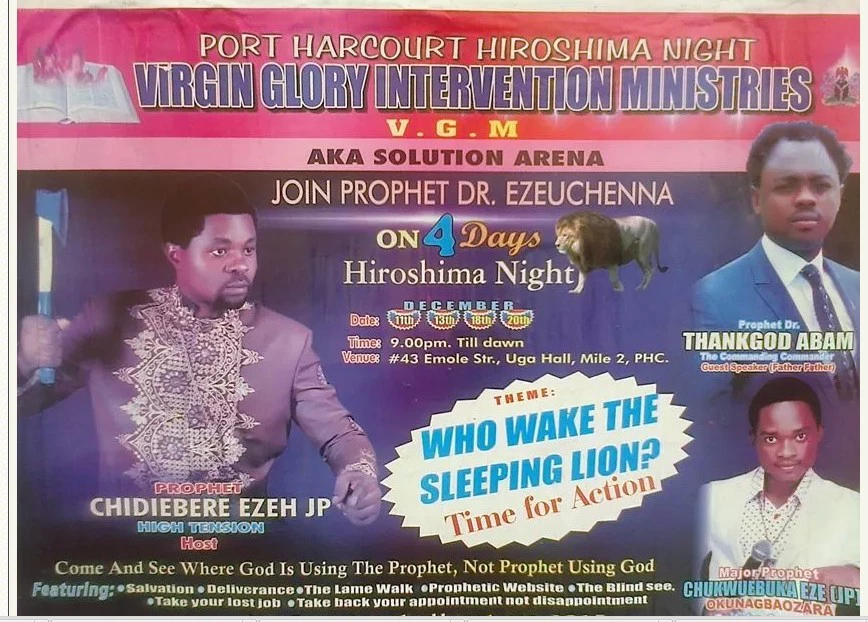 Everything is wrong with this poster, starting with the name of the church, to the pastor holding an Axe. This has to be one hilarious poster. we don't know who dared to wake the lion, but they sure need you at the Virgin church.
2.No More Shit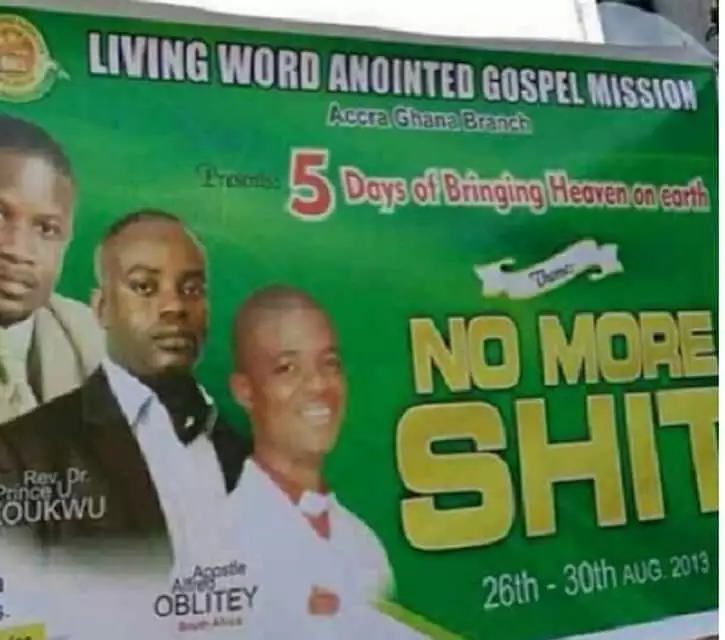 No More Shit?? They really mean business and they are letting us know heaven must come down If this poster doesn't make you laugh, then we don't know what else will.
3. Operation Point And Kill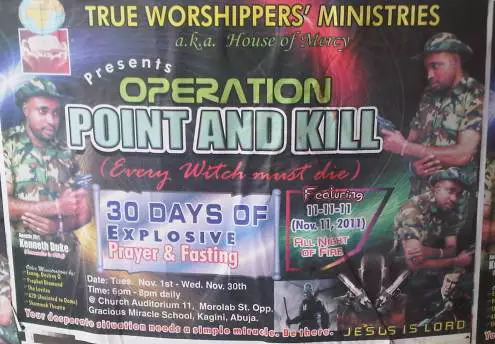 Please, can somebody explain this, because we are lost? Who are they pointing at who are they killing? We Guess the witches died on the spot because, with the guns and uniform, we are pretty sure they didn't have mercy.
4. Oh Lord Release My Visa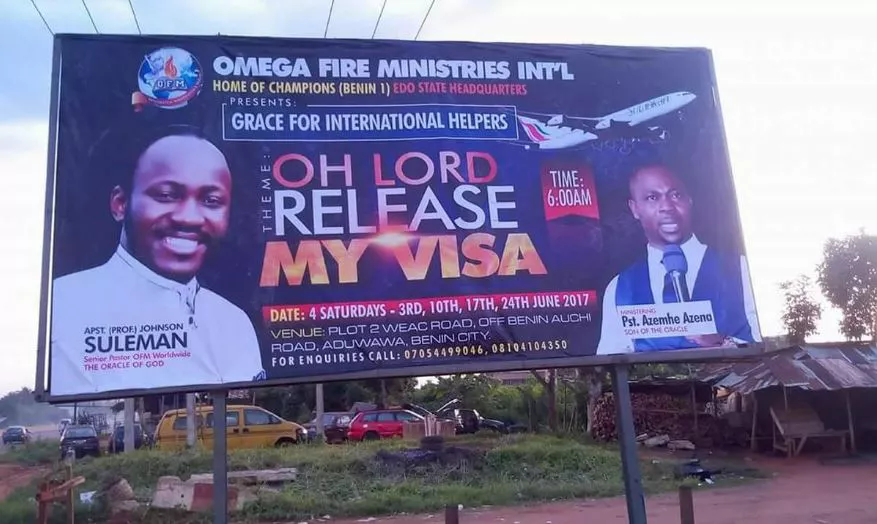 Could this get any better? Since when did God start working in the embassy that nobody knew about. Please got to the embassy and get your visa.
5. NTA Channel Jesus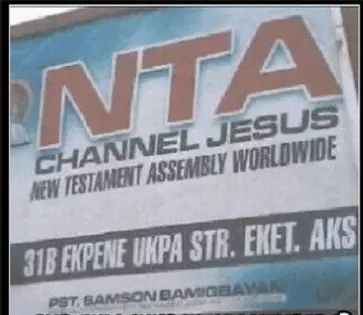 Does this church genuinely have members? The only NTA we know is Nigerian Television Authority. So where did this come from?
6. Oh, God Na Like This We Go Dey?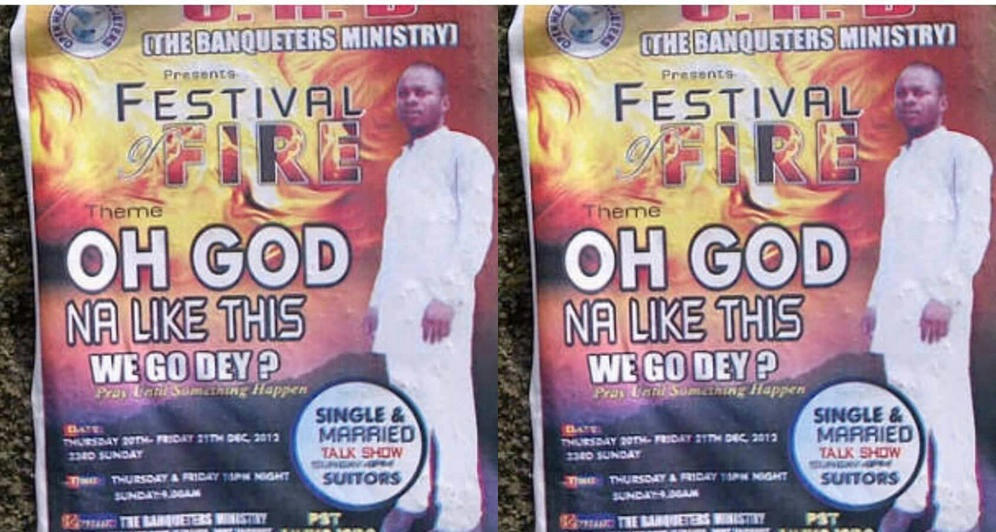 Just Wow!!! Na like this we go dey?? Check out the single and married "talk show". This act is getting more and more hillarious.
7. Na My Matter Go Kill You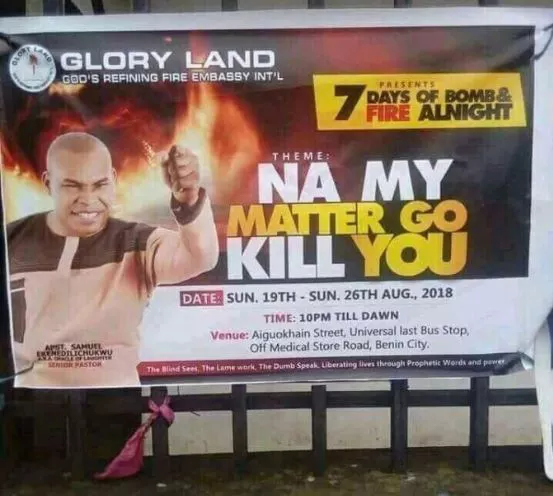 ok. we really don't understand why that is the theme, but the "7 days of bomb and fire alnight got us".
8. Who Tie The Goat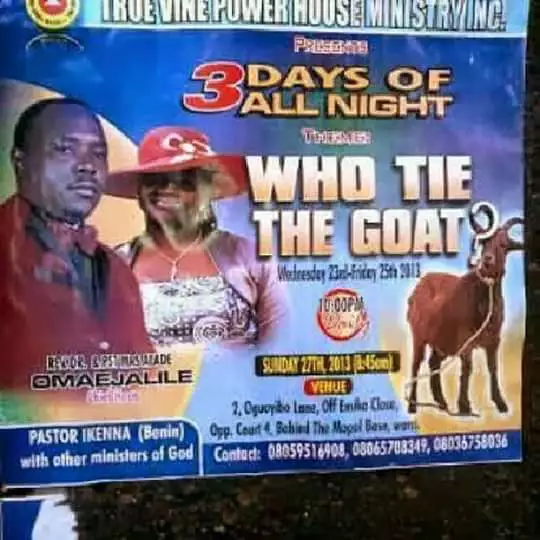 First, of, what does a goat have to do with the church. What do you think they will do to the person who tied the Goat.
9. Abroad Must Favour Me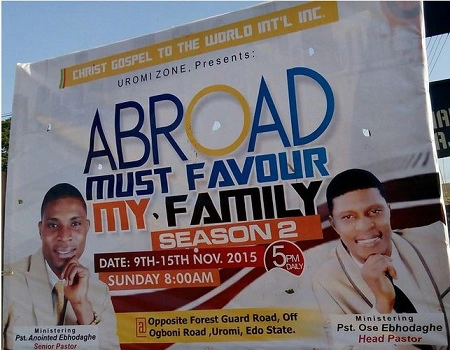 This has to be one of the most hilarious themes we have seen sounds like a movie we are not interested in. anyway, if abroad does not favour the congregation after this then we don't know what else will.
10. I Am Not A Christmas Goat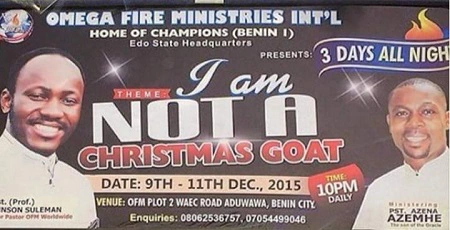 Definitely, Christmas was coming when they made this poster because they were really running away from being a Christmas goat.
we wonder what was going on in the minds of the congregation when they saw these posters.
what do you think?
Comment and Like