In case you missed it somehow [maybe you were hiding under a rock since yesterday], Nigerian singer, Naira Marley was busted by the EFCC in the early hours of yesterday, May 10 2019.
The cause of his arrest and parade alongside some other persons is not known, but it is widely believed that it has something to do with the singer's recent comments on social media, about internet fraud AKA Yahoo Yahoo.
Marley, whose real name is Azeez Fashola seemed to be championing the cause of yahoo boys far and wide when he took to his Instagram a while, to say 'If u know about slavery u go know say yahoo no b crime.'
Essentially, the singer sees nothing wrong with internet fraud and has gone quite the length to defend his stance, kicking against everyone, including fellow artistes like Rugged Man and Simi, who negated his opinion on the matter. He has even done a song along those lines,
So, yeah, the EFCC seem to have not taken kindly to such criminal-behaviour-sympathy, nabbing Naira Marley and few others yesterday.
But while Naira Marley's brush with the law is the most recent, it is not the only time a celeb has had problem with the law. A few arms of the Nigerian Armed Forces have dragged quite a number of Nigerian celebrities and below is a list of some Nigerian celebs who have had [embarrassing ]skirmishes with Nigerian cops and other armed 'constituted authorities'.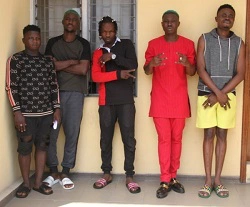 Naira Marley was paraded alongside Zlatan Ibile. Zlatan is in red here . [Credit – Vanguard]
Zlatan Ibile
The Zanku beat champion was actually paraded alongside Naira Marley and few others. It is unknown whether it is for the same allegation that they were both brought in. But, yeah, Zlatan, his green hair and a few other folks were raided and bundled to their offices by the EFCC.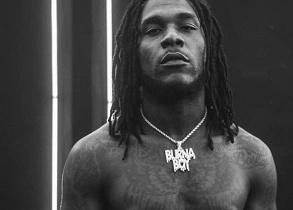 Burna-Boy [Credit – Premium Times Nigeria]
Burna Boy
Remember when Burna Boy was listed as wanted by the Nigerian police? Of course, you couldn't have forgotten!
In 2017, the police declared that Burna Boy was on the run and he was wanted for questioning regarding the armed robbery attack on another singer, Mr. 2Kay.
That was the conflicted version of Burna Boy we had before the strictly musical Burna of 2018, who gave us just bangars and didn't have to allegedly run from the law.
Who even remembers what happened to that police case? Was it ever closed?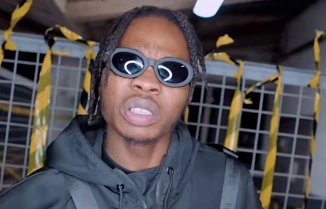 Naira Marley [Credit – Naija News]
Davido
In 2017, Davido was invited for questioning by the Lagos police command, with respect to a homicide investigation.
The Lagos State Police Command arrested Davido over the death of Tagbo Umeike, his friend, whose body had been found in a Toyota Camry in front of the Lagos Island General Hospital.
Davido, however, repeatedly denied involvement in the unfortunate incident. Also, the police could prove nothing against him.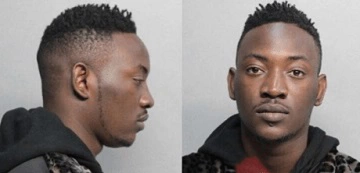 Dammy Krane [Credit -Vanguard]
Dammy Krane
Although his did not happen with the Nigerian armed forces, Dammy Krane has also had his time battling the authorities enforcing the Law.
Still in 2017, Dammy Krane was arrested after private jet service company, TapJets alerted the US police that the singer made a booking totalling $10,943 with stolen credit card details.
Thankfully, two months later, all the charges brought against him were struck out in court and he was absolved.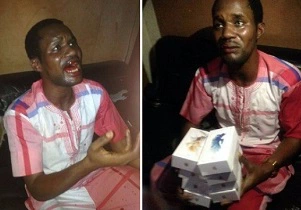 Seun Egbegbe was allegedly caught stealing iPhones in computer village [Credit -The Point]
Segun Egbegbe
Remember Segun Egbegbe? He was a movie producer and ex boyfriend of actress, Toyin Abraham.
He was caught at the computer village in Ikeja, allegedly with a number of stolen iPhones.
The hit shaku shaku song 'Legbegbe' was inspired by this incident.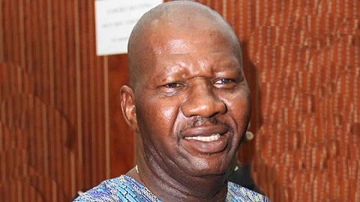 Baba-Suwe [Credit – City Voice NG]
Baba Suwe
In 2011, the Nollywood actor and comedian, whose real name is Babatunde Omidina, was arrested for possession of substances suspected to be cocaine by the officials of the National Drug Law Enforcement Agency (NDLEA).<br style="box-sizing: inherit; color: #0d0d0d; font-family: 'Quattrocento Sans', sans-serif; font-size: 15px; text-align: start; background-color: #f1f1f1;"/>What followed was a legal battle that seemed to grag on forever but eventually, Baba Suwe was cleared and the NDLEA ordered to pay him 25 million naira.
Guess what? As at September, 2018, the actor told Sahara Reporters that theNDLEA are yet to pay his judgement money.
We doubt if that has been paid now.